So I usually don't post anything personal or political on this blog but I'd like to take the chance to share my experiences from the Obama inauguration in DC yesterday.
A few friends and I drove down from Baltimore on Monday evening expecting heavy traffic and long delays on our way into a friend's house that we were staying at in Capital Hill, but were surprised to find a smooth, quick commute that only took us forty-five minutes. We stayed at the house, had a few drinks, and were up bright and early the next morning (6 am) to venture off to the monument.
One word: COLD.
Shout out to the two best inventions in the past 20 years: hand warmers and under armor.
It was freeeezing. Luckily we had a 2.5 mile walk to keep us warm.
The crowds were what we expected. People were under control for the most part and everyone was pretty courteous, but there were always one or two people who let the cold get to them who became pushy and unruly. Lines of people waiting to get standing space anywhere close to the capital were everywhere, and they didn't seem to move. We didn't have any tickets so we decided to hike it up to the monument to take our chances there, which was a good call because there was plenty of space when we got there (around 10 am) and we could actually see a jumbo-tron.
They were playing the concert from Saturday for most of the time while people jumped up and down and moved in place however they could to stay warm. We went to check out the refreshments tent, and an hour and $52 later we came back with four bottles of water, eight cups of hot chocolate, and four hot dogs. I ate two. They were good.
So then more waiting around and finally some of the recent presidents were announced. Bill Clinton got cheered, George W. did not. One guy who said he was from a newspaper in North Carolina asked me "why they don't like him very much?". Nice guy, but I wanted to ask him if they had cable in North Carolina or if he was actually from another planet? Here is the article, for those of you who don't want to register to view it:
WASHINGTON — If there was any doubt President George Bush left office as an immensely unpopular president, it was confirmed Tuesday.

Tens of thousands of people standing on the National Mall during President Barack Obama's swearing-in ceremony jeered in unison every time Bush appeared on the giant television screens set up so those in the crowd could view the event.

"It's just not here," said Baltimore resident George Murphy. "Every city in America was hearing that same noise."

When asked why he thought so many people disapproved of Bush, Murphy said the answer could be found in the last eight years.

"I think people are glad to see him go," Murphy said. "I think you will have a hard time defining something positive in his administration."

Mo Rodgers, who flew from Los Angeles this week to attend the inauguration, felt, however, that the crowd should have been a little more respectful of the former president.

"People maybe should have been respectful, but they're frustrated," Rodgers said.

Rodgers said Americans are angry with Bush over the economy, the war in Iraq and policies directed to further enrich the wealthy.

"He was for the wealthy and well-connected," Rodgers said.

At one point after the swearing-in ceremony, a military helicopter flew over the crowd leaving the National Mall. Some in the crowd, thinking Bush was aboard the helicopter, looked upward and shouted good riddance.

Others started singing "sha na na na, hey, hey, good bye."
Actually, what I said was "you would have a hard time finding something positive that defined his presidency".
Anyways, back to the events. Eventually Barrack Obama was sworn in: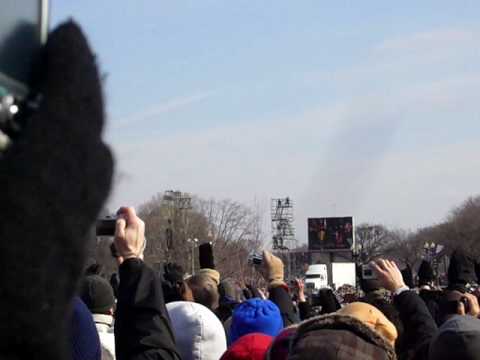 Quote of the day: When Aretha Franklin came out, and the girl behind us immediately said "whats she WEARin'?"
Here's another shot of the crowd: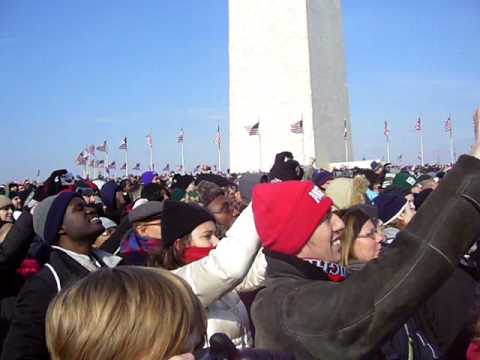 We stuck around for the rest of the ceremony, and decided to take a different (longer) way home. By the time we got back, someone calculated that we walked a total of 7.5 miles. It was great to be back inside, but we were all disappointed in CNN, FOX, and every other news channel who would not stop beating the Ted Kennedy seizing story to death, despite everyone that they interviewed all but saying "he's fine now, everything seems to be ok".
Here are a few satellite photos of the crowds from Google's Geo-eye camera. I have to say, these pictures are a little deceiving because it makes it look like there is so much open space, which, trust me, there wasn't.
I was also impressed that a change has come to the White House post was scheduled and launched one minute after the swearing-in was scheduled. Everyone knows the role that the Internet played during Obama's campaign. Blogs, Twitter pages, Web 2.0-friendly web sites. It's a breath of fresh air, and another way for the youth to get involved and stay informed.
All in all, it was a pretty good day. People seemed to be hopeful and happy to have a new president. I would have to say that this is the first time in my lifetime that we have a president that I can relate to. He seems to reach the youth, hopefully he can motivate them to want to pitch in and make a change.